Archive for
June, 2012
"It's a cesspool."  That's what Google CEO Eric Schmidt said of the Internet a few years back.  We can pretend it's an incredible resource that can do no wrong, and of course it is home to some handy resources and reputable retailers, but half the time it can feel like you're having to wade knee-deep through a sewer before you are able to access this information. How do you distinguish the good from the bad? One tried and tested route is through the use of a professional SEO copywriting service.
Professional SEO copywriting services can help the cream rise to the top, so when you enter a search into Google, Bing or whatever search engine you prefer to use, those sites that have invested in their business are displayed, leaving the crumbs at the bottom.
SEO copywriting is a careful balancing act between readability and search engine manipulation. Keywords are all important. In the first instance the keywords you wish to target need to be chosen carefully. There is no point targeting 'how to make baked potatoes' if everyone online is searching for 'how to make jacket potatoes'. This problem can be solved by conducting keyword research, a simple process which only need take a few minutes of your time.  We talk about this all the time here.  Taking the time to research your keywords is oh-so-critical, my friends.
Once your keywords have been chosen you need to weave them into the correct locations on the page. Title tags, meta descriptions and headings are essential. An experienced SEO copywriting professional will know how many keywords should be used and in what quantity. They will also be aware of the character limits of each of these sections.
Writing the body copy of your page is more difficult. A keyword density of anywhere between 3-5% will keep the search engines happy, but your copy has to flow naturally. Customers will not only get disjointed if your copy is out of whack… they may just smell a rat – if your words don't fit the right context.   A professional SEO copywriter will be able to write text that pleases the search engines but also informs, entertains or intrigues the readership.
A call to action is not only a good idea – it's the only idea.  Without a call to action – your visitor can just lolligag.  You need to tell them what to do on your site… if they wish to make a purchase or who they should contact if they would like to receive further information. If you find the right online marketing agency or freelancer then SEO copywriting services needn't be expensive, just make sure you have a word of mouth recommendation before you go splashing the cash; if that's not possible then at least ask to see some examples of work they have produced in the past.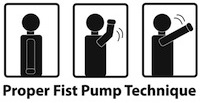 Google Chrome has finally surpassed Microsoft Internet Explorer (IE) as the world's most popular Web browser. In mid May Chrome managed to get a boost in users to propel it past Internet Explorer.
It isn't the first time Chrome has done this, but this is the first time that it finally held the lead for more than a few days. So far it's been more than 2 weeks and Chrome has continued to hold the lead, probably for good now.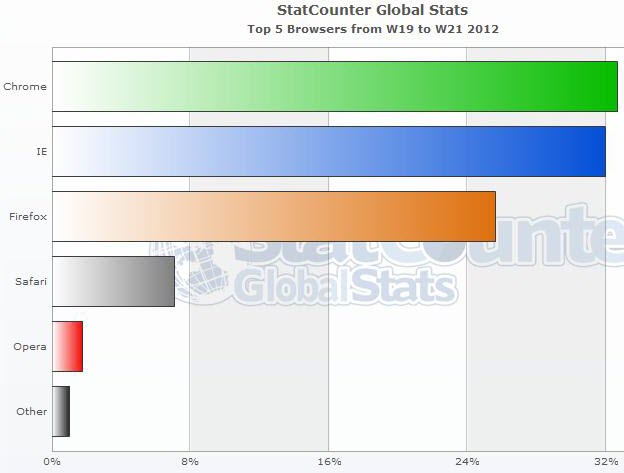 Globally Chrome is only ahead by .7% over Internet Explorer, which is about 6% ahead of Firefox. This is pretty amazing progress considering that Google launched Chrome back in 2008 when Internet Explorer had almost 70% of the Web browser share. In just over 3 years Google has taken over as the market leader while Internet Explorer continues to decline in usage.